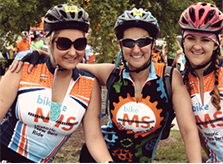 Massage At Hand provided sports massage at the National Multiple Sclerosis Society MS150 bike ride in New Bern, NC to treat the cyclists pre and post event.
Massage At Hand was part of a team of massage therapists from all over the state who donated a portion of their event proceeds to help the event raise $1,525,793.17 for MS research and awareness.
Use any of these coupon codes to receive a $10 discount and Massage At Hand will donate $10 to the corresponding organization.
THANKS4THEPINT – American Red Cross Triangle Chapter – saving lives every day through blood donation, disaster relief, and much more.
MCSSA – Meredith College Sports Science Association – providing exercise and sport science resources and events for the community.
CRCNCSU – NCSU Collegiate Recovery Community – providing support to students recovering from addiction disorders.
DAY-OF-GRATITUDE – Day of Gratitude – promoting teacher appreciation in the month of October.